Welcome to the home page of Peter Ballard.
You may also want to check out my blog at http://peterballard.blogspot.com
This page contains A bit about me, some Documents I maintain.
But mostly, it contains articles I've written about Christianity and the Bible. The main topics are:
I also have a fairly extensive Links page, some software, and some humour.
This page: http://www.peterballard.org/
Last update: 19-Jul-2008
---
I'm married to Josie, (that's Josie Ballard nee Gomer, originally Josie Gomer, for the search engines) and we have three children aged 14, 11 and 9. We live in Adelaide, Australia.
If you remember a Peter Ballard from Belair Primary School, Saint Peter's College, Adelaide University Electrical Engineering, Austek Microsystems, RADLogic (where I work now), Bellevue Heights Baptist Church (now known as Blackwood Hills Baptist Church, and where we are attending again) Edwardstown Community Church, Park Holme Baptist Church, Marion Vineyard Christian Fellowship, or the Adelaide Chess scene (where I am still sighted on rare occasions), chances are that's me. I'm always keen to hear from old friends, so check my Contact Details.
Otherwise, you might have the wrong Peter Ballard. So you may want to check out the web pages of Peter Ballard. According to Paul Ballard's Genealogy Page a Peter Ballard is mentioned in the Curia Regis rolls for Northamptonshire in 1196, but he's dead now.
---
Harmonising the Resurrection Accounts - A response to the so-called Easter Challenge.
The America's Cup Myth - You've probably been brought up believing that Australia won the America's Cup in 1983. Recent studies by scholars indicate that it never happened...
The Bible is Reliable Despite Textual Errors - The study of ancient Greek New Testament manuscripts has revealed that many copying errors had crept into old Bible translations such as the King James Version. Are these differences significant?
Why I believe the Bible is not inerrant - The Bible is God's inspired word to humankind... despite its errors.
A Guide to the Septuagint - Some basic information on the Septuagint (The Greek translation of the Hebrew (Old Testament) Scriptures).
Women in Ministry
Women In Ministry - Does the Bible REALLY forbid women from certain ministries? You may be in for a surprise...
Politics
Free Borders - An Idea whose time will come - a radical solution to the growing world problems of refugees and people smuggling.
The Great Wikipedia Beatup - are Commonwealth public servants sanitising John Howard's history on Wikipedia?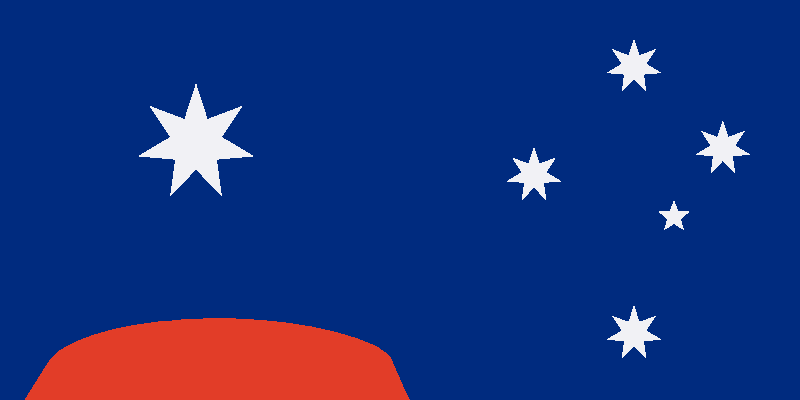 My proposal for a new Australian flag.
Other Bible Studies
Why Believe in God?
Why Christianity?
---
My documents have fallen on hard times:
Due to copyright issues, I must restrict access to UBS Greek New Testament with parsing to those who email saying they agree to the conditions of usage. (Click on the link for more details). And my The Septuagint Online (also here) disappeared when Geocities cancelled my account (unfairly, in my opinion).
Some people still find useful my Important Religious Documents and Commentaries An annotated list of where to find important documents (including the Bible), manuscripts and commentaries on the web.
---
Apart from the wonderful pages you see here, I do web page design and maintenance for other people from time to time. Currently I maintain:
---